Hola querida comunidad, espero estén muy bien! En este post les quiero hablar de una pieza que pude interpretar hace unos años del grandísimo compositor argentino Astor Piazzolla, "Milonga de la anunciación" de la opera "María de Buenos Aires"
En el 2017, estando en mi país tuve la oportunidad de tocar un concierto para Violín, compuesto por una compositora a la que hoy por hoy quiero y admiro un montón, Claudia Montero, ganadora de 4 Latín Grammy (de quien hablaré en mi siguiente post). En este concierto tuve la dicha de interpretar unos bises (son las obras que se tocan luego de tocar el repertorio del concierto, como un extra) que este se hace dependiendo de los aplausos del público. Esos bises fueron con el queridísimo Maestro José Felipe Saglimbeni, uno de los fundadores del Sistema de Orquesta de Venezuela.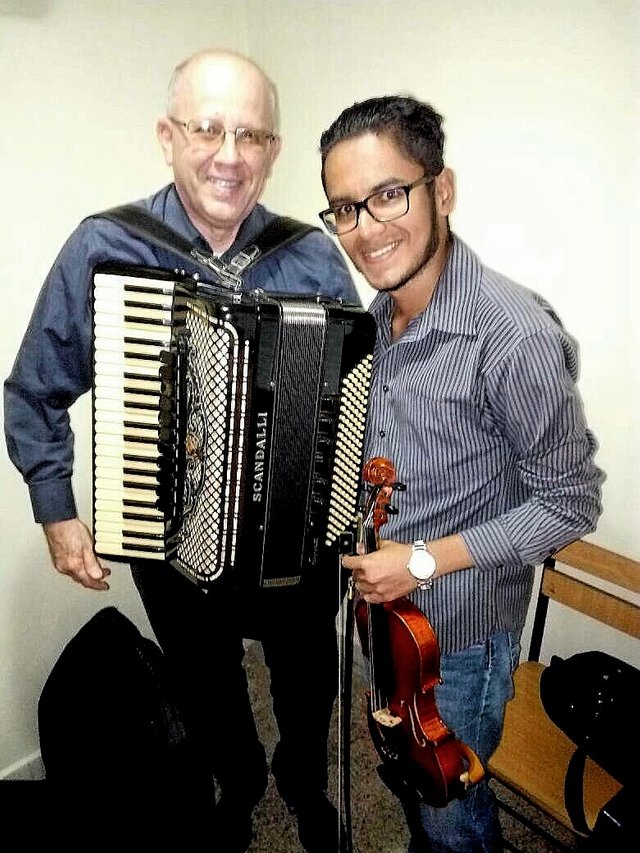 Esta pieza forma parte de la ópera "María de Buenos Aires" con el libreto de Horario Ferrer, con una historia muy porteña, de esas que tienen muy marcado lo sentimental, los problemas cotidianos, todo muy a flor de piel, básicamente pero con ejemplos, un poco difíciles de entender.
La obra comienza con una introducción bastante ansiosa, una ansiedad porteña de esa que te da al caminar por las calles bellas y congestionadas de Buenos Aires, donde inmediatamente comienza el tema, con textos que hacen pensar que esta es la personificación del mismísimo tango. En los minutos de duración podemos sentir como vienen y van sentimientos, bastante intensos pero no intensos de cantidad sino de presión.
Armónicamente hay que dejarse llevar, pues para mí es un poco más fácil de buscar interpretar lo que Piazzolla quería ya que el texto es bastante cargado, a lo Ferrer.
Texto:
Tres marionetas
chuecas y locas
que una violeta en la boca me hincaron ayer,
con un cuchillo en los dientes, por el revés
de mis caderas tordillas, zurciendo van
un gran remiendo en flor
de hinojo y de sisal
Ay!...
Flaco y en banda
tan cadenero!
me anda un Jesús chapalenado, de cuarta, en la voz,
un canyenguito sobón
con un compás
de punto cruz;
y un dulce barro torcaz
de Cruz del Sur
que hoy me ha puesto a temblar.
Y un angelito
de terracota,
tuerto del grito en la rota viudez de un pretil,
mascando un salmo en sanata, con un jazmín
me ató un solcito de leche sobre el sutién,
qué dos espasmos de luz
tengo atrás de la piel!
Dale María!
Si nueve llantos
son todo el pardo misterio que había que ver,
que loco intento de espiga que vas a hacer!,
que dura rama celeste te va a crujir!
Dale que esta al venir!
Dale que duele bien!
Ay!
Tengo atorada
tanta ternura
que de una sola ternura a Dios puedo parir!
Y se es que nadie ya quiere de mí nacer,
en el rebozo robado de algún Chaplín,
entre mis brazos daré
de mamar a un botín!
Gracias por leer y el apoyo siempre, abrazos a todos!! Nos leemos en el siguiente post!
---
Hello dear community, I hope you are very well! In this post I want to talk about a piece that I could interpret a few years ago of the great Argentine composer Astor Piazzolla, "Milonga de lanounción" of the opera "María de Buenos Aires"
In 2017, being in my country I had the opportunity to play a concert for Violin, composed of a composer that I love and admire a lot today, Claudia Montero, winner of 4 Latin Grammy (Who will I talk about in my next post) . In this concert I had the joy of interpreting some bises (they are the plays that are played after playing the concert repertoire, as an extra) that this is done depending on the audience's applause. Those bises were with the beloved Master José Felipe Saglimbeni, one of the founders of the Orchestra System of Venezuela.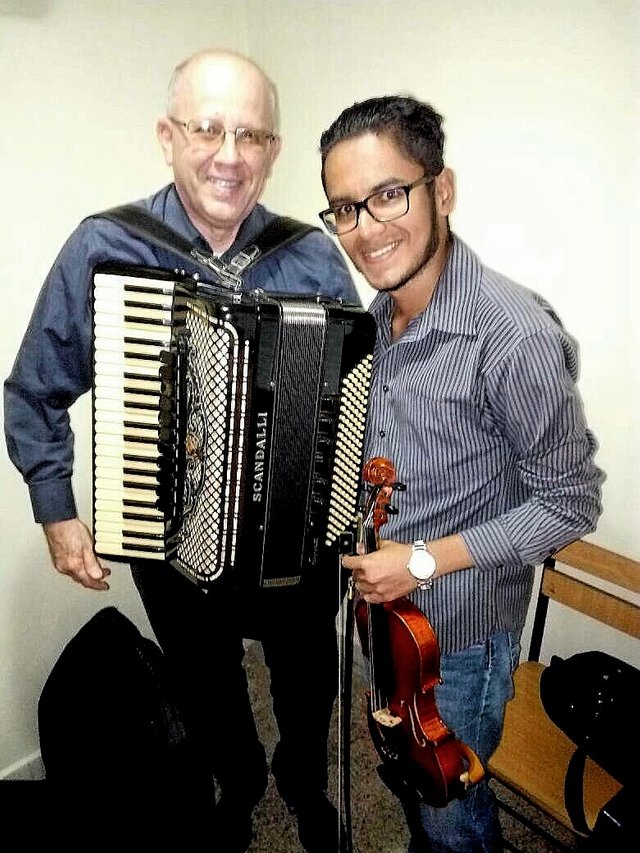 This piece is part of the opera "María de Buenos Aires" with the libretto by Horario Ferrer, with a very Buenos Aires history, of those who have very marked sentimentality, everyday problems, all very close to skin, basically but with examples , a little difficult to understand.
The work begins with a very anxious introduction, a Buenos Aires anxiety that gives you when walking through the beautiful and congested streets of Buenos Aires, where the subject immediately begins, with texts that suggest that this is the personification of the tango itself. In the minutes we can feel how feelings come and go, quite intense but not intense in quantity but pressure.
Harmonically you have to get carried away, because for me it is a little easier to search to interpret what Piazzolla wanted since the text is quite loaded, like Ferrer.
Text:
Three puppets
crooked and crazy
that a violet in my mouth drove me yesterday,
with a knife in the teeth, upside down
from my hips tordillas, darning van
a large patch in bloom
fennel and sisal
Oh!...
Skinny and in band
so cadenero!
a chapalenado Jesus, fourth, in my voice,
a canyenguito sobón
with a compass
cross stitch;
and a sweet muddy mud
from Cruz del Sur
that today has made me tremble.
And a little angel
terracotta,
One-eyed scream in the broken widowhood of a parapet,
chewing a psalm in sanata, with a jasmine
He tied me a little milk on my suture,
what two spasms of light
I have skin behind!
Give Maria!
Yes nine cries
They are all the brown mystery to see,
what a crazy spike attempt you are going to do!
what a hard celestial branch will crunch you!
Give him what's coming!
Give it hurts good!
Oh!
I got stuck
so much tenderness
that from one tenderness to God I can give birth!
And I know that nobody wants to be born anymore,
in the stolen shawl of some Chaplín,
In my arms I will give
to suck a booty!
Thanks for reading and always support, hugs to everyone! We read in the next post!