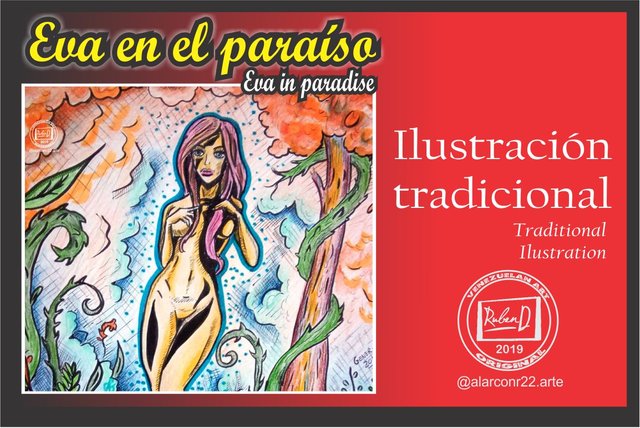 En esta oportunidad les presento una ilustración que hice con motivo de una conversación que tuve con mi amiga @pinkgirl4 en el servidor de @steemitasclub. Estábamos hablando de las proporciones del cuerpo humano y todo eso, y la conversación llevó a retarnos a hacer a Adán y Eva, ella haría a Adán y yo a Eva.
In this opportunity I introduce you an illustration that I made because a conversation I had with my friend @pinkgirl4 at the server @steemitasclub. We were talking about proportions of the body human and others things, then the conversation took us to dare each others to do Adan and Eva, she would do Adan and I will do Eva.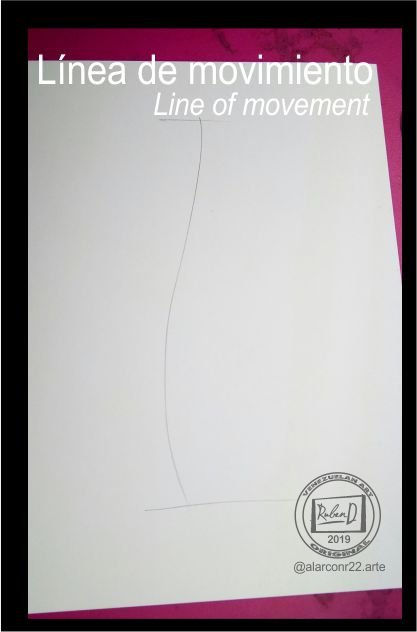 PROCESO CREATIVO:
El proceso creativo comenzó con la línea del movimiento, ésta es una línea que te ayuda a definir la postura de tu personaje, hace que no sea rígido y parezca un robot.
Seguí con las líneas guías que definen el boceto que es la base del resultado final.
Una vez conforme con el boceto entintamos el boceto y coloreamos dando rienda suelta a la imaginación.
The creative process starts with the line of movement, this is a line that helps you to define the gesture of your character, it do that your character will not be rigid like a robot.
I followed with the guide lines to define the sketch of the final result of my ilustration.
Once I was agree with the sketch I started with the artline and after with the colors letting fly the imagination.
Fotos del proceso creativo / Photos of the creative process: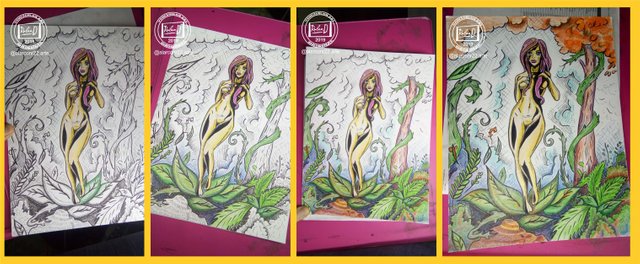 RESULTADO FINAL / Final result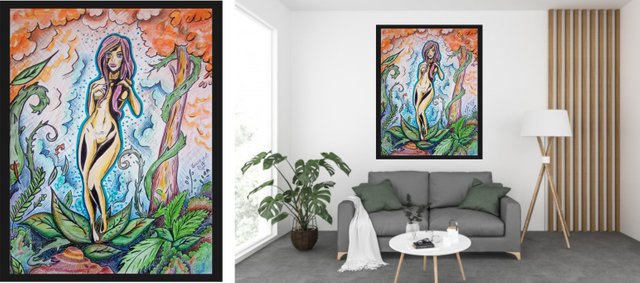 Todas las fotos de la presente publicación fueron tomadas por @alarconr22.arte con un celular BLU H1 RD, y editadas en CorelDRAW X7, al igual que el separador.
Espero les haya gustado EVA EN EL PARAÍSO, al igual que la ilustración de Adan de @pinkgilr4 (pueden verla aquí)
Recuerden que pueden ver más ilustraciones que aún no subo a la plataforma de Steemit en mi Instagram

con mi mismo usario aquí: @alarconr22.arte
Nos vemos en la próxima publicación.
All photos in this publication were taken by @ alarconr22.arte with a BLU H1 RD cell phone, and edited in CorelDRAW X7, as was the separator.
I hope you liked my illustration EVA IN PARADISE, like the illustration of @pinkgilr4 (you can see it here)
Remerber to visit my Instagram where I have others illustrations that I do not still upload to Steemit platform. Instagram user: @alaraconr22.arte
See you next post.


EVA IN PARADISE por Ruben D., Alarcón Gener se distribuye bajo una Licencia Creative Commons Atribución-NoComercial-SinDerivadas 4.0 Internacional.

Cortesía de @equipodelta


NOTA: todos los dibujos y pinturas hechos por mí tienen Derecho de Propiedad Intelectual, además tienen una historia ligada únicamente a mi persona y mi entorno, ya sean conocidos, familiares o amigos. Gracias por no plagiar.