Feliz día de San Valentin Papi.
---
---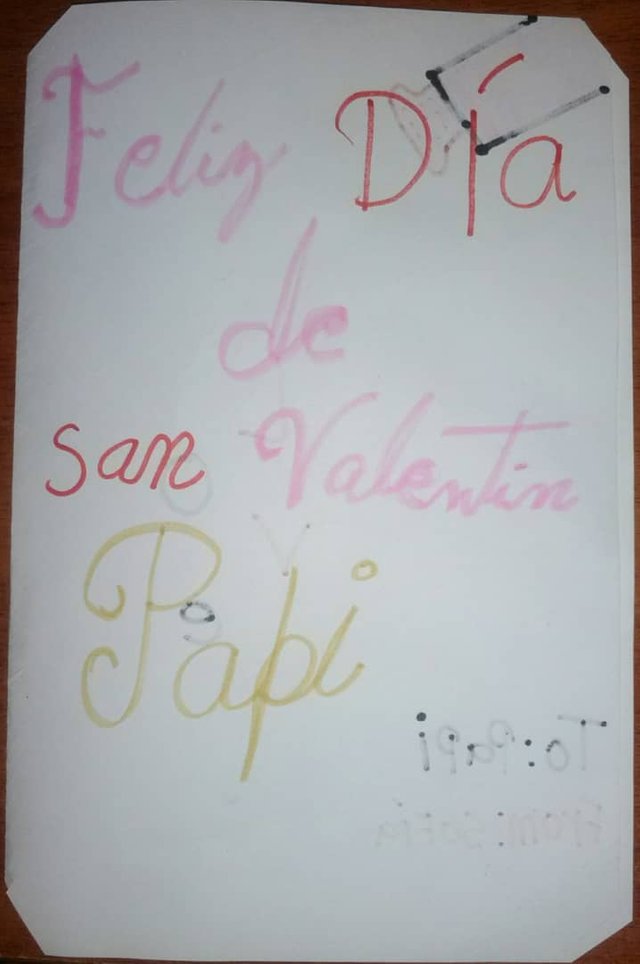 Fotografiá tomada con mi celular.
El Día de San Valentín —o simplemente San Valentín— es una festividad de origen cristiano que se celebra anualmente el 14 de febrero como conmemoración de las buenas obras realizadas por san Valentín de Roma, que están relacionadas con el concepto universal del amor y la afectividad Wikipedia
Con el pasar de los años esta celebración se ha convertido en algo muy comercial sin embargo también ha cambiado su forma de celebrar ese día a nivel mundial.
De alguna manera se ha transformado en algo que celebramos todos, cuando se comenzó a celebrar esta fecha se puede decir que era solo dirigida hacia un tipo de personas especificas en este caso los adultos o las personas en una edad que ya comprende lo que es el amor de pareja, porque la razón era el día de los enamorados.
Esas personas en muchos casos eran los que estaban en esa etapa de esta cortejando a esa persona que amas, de esta manera la costumbre era solo para los adultos repito.
Sin embargo como ya mencione eso fue mutando o cambiando su forma de realizar esa celebración, ahora todos absolutamente todos a nivel mundial lo celebran.
Esta fecha se ha convertido en algo que puede llegar significar muchas cosas no solo el amor de pareja, ahora también el amor de familia, el amor de amigos, el amor de una sociedad, y eso me alegra porque ese amor debe transcender a todos y para todos sin importar la edad, porque amar no tiene edad y muchos menos tiene que estar limitado a una pareja de enamorados.
Yo amo a mi esposa y siempre la voy a amar es mi vida, sin embargo ella sabe que después que nacieron nuestras hijas ese amor se ha transformado en verdadero amor.
Pero me pregunto como no voy a amar a mis hijas cuando ellas y mi esposa son todo para mí, y mucho más las amo cuando me demuestran ese amor inmenso en pequeños detalles.
Hoy 14 de febrero mi hija menor Sofía Isabella me sorprendió con esta hermosa tarjeta donde me expresa lo que siente por mí a pesar de que ella reconoce que en momentos no hace caso a nuestros consejo, pero a pesar de mis regaños ella siempre me ama.
Yo también te amo hija, con el nacimiento de ustedes dos yo conocí lo que es amar de verdad con cordura.
Yo también las amo en ayer, en hoy y en mañana, sin límites sin ataduras ellas mis hijas y mi amada esposa, (Mi Cielo) como suelo llamar a mi esposa son mi 14 de febrero todos los días del año.
---
---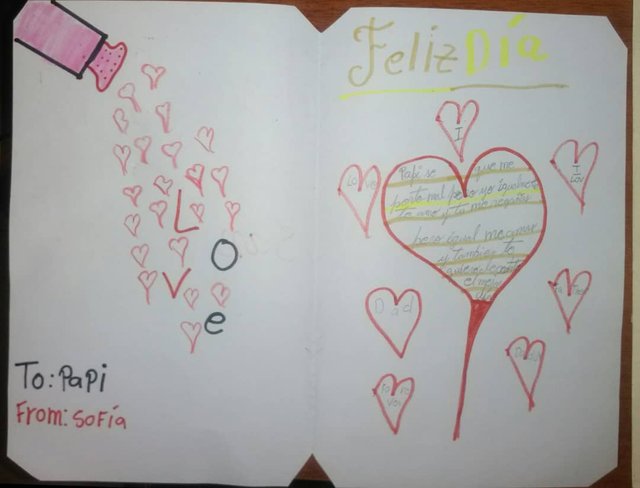 El amor mas grande siempre se demuestra con pequeños detalles.
---
---

---
Community beta.steemit Project HOPE Id hive-175254
Project Hope Venezuela is an initiative created to grow.
You See more about it at:
@coach.piotr -PROJECT #HOPE - day one
---
PROJECT #HOPE An Initiative to give hope!
@crypto.piotr, @project.hope, @cyberspacegod, @achim03, @lanzjoseg, @fucho80, @neavvy, @juanmolina, @jadams2k18, @machnbirdsparo, @honarparvar, @reinaldoverdu, @guruvaj, @alokkumar121, @edgarare1, @flash07, @djennyfloro, @gandhibaba, @reverseacid, @yonnathang, @mariusfebruary.
---
---
---
Gracias por visitar, agradezco tu opinión.

"En constante evolución".