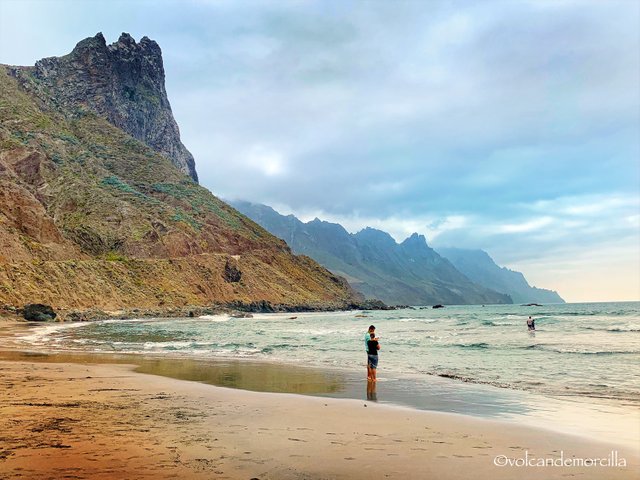 Hace unos días, @alexanderfluke puso una foto de Almaciga y esto me hizo recordar que en junio pasado vinieron unos amigos y los llevamos a conocer una playa recóndita de Tenerife.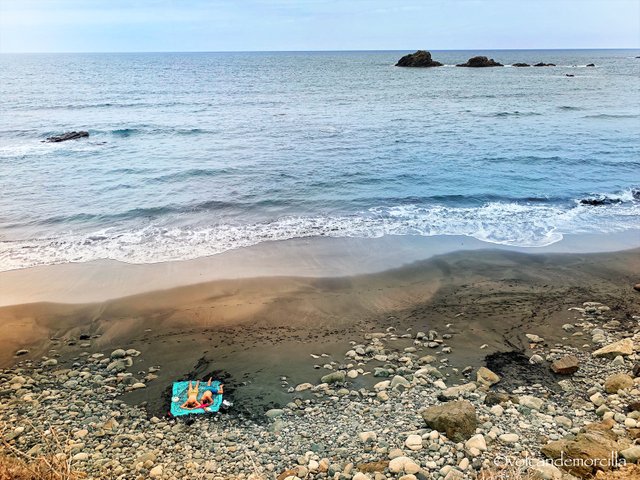 La playa del Roque de las Bodegas es una de las más bonitas de la zona de Taganana. Hay otras muy lindas como es la de Almaciga o la de Benijo. Todas están enclavada entre los acantilados del macizo de Anaga y por ello tienen un encanto especial, ya que permanecen salvajes y se conservan sin deterioro alguno.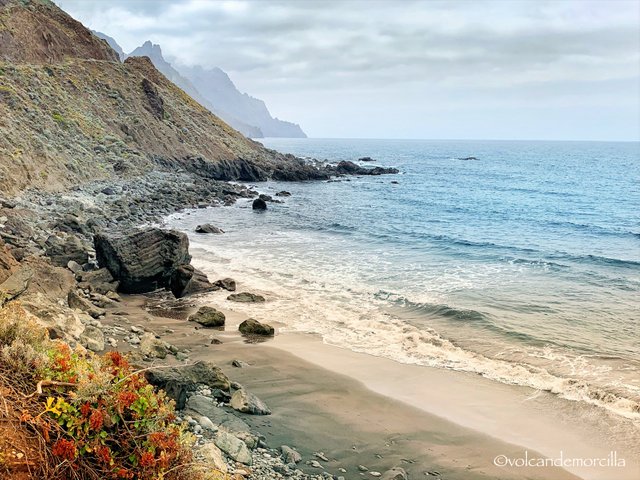 Es complicado llegar hasta esta playa porque su acceso es a través de una complicada y estrecha carretera muy sinuosa que atraviesa el bosque de laurisilva que hay en el macizo de Anaga, en la punta noreste de la isla de Tenerife.
@alexanderfluke acaba de publicar unas fotografías de esta carretera. Aquí os dejo el link: https://partiko.app/@alexanderfluke/taganana-3-pics?referrer=volcandemorcilla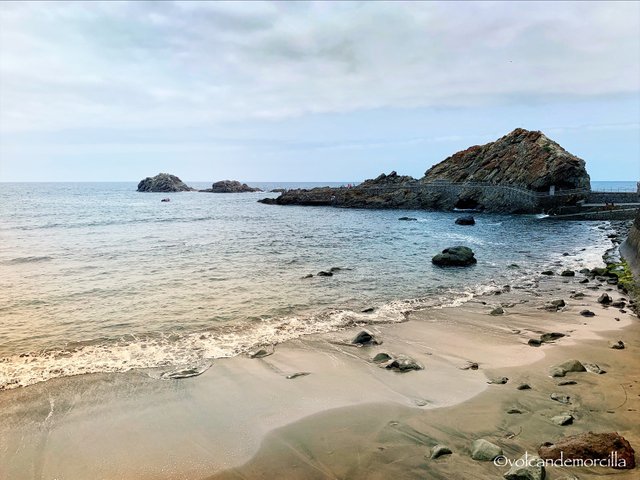 La playa mide casi 400 metros de largo y 50 de ancho. Tiene unas aguas muy limpias y cristalinas. Su arena es fina y oscura porque es de origen volcánico.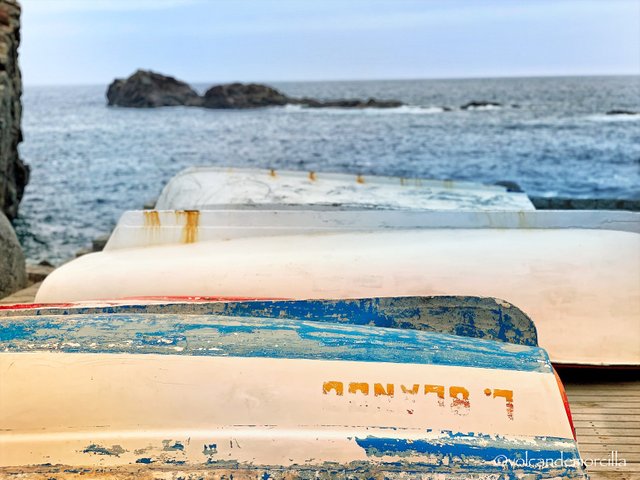 Como es difícil de llegar a ella y hay muy pocos lugares donde aparcar, no está abarrotada de gente como otras de la isla. más bien es una playa poco conocida por los turistas por lo que mantiene su carácter familiar o para gente tinerfeña.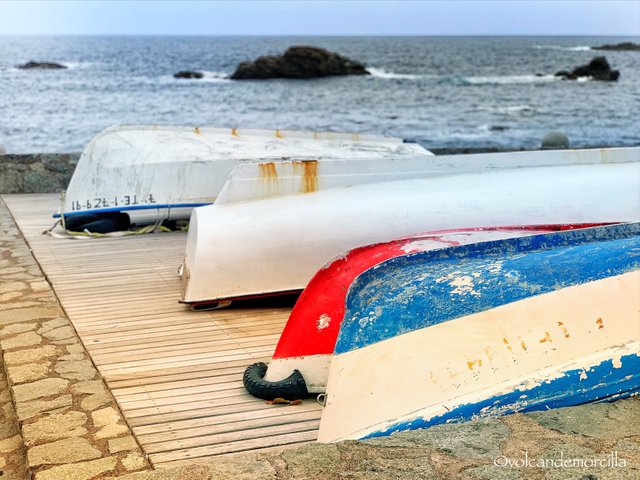 Dependiendo de cómo esté el mar, puede ser una playa para poder bañarse tranquilamente o puede ser muy peligrosa. A veces las corrientes son muy fuertes y pueden arrastrar hacia el fondo.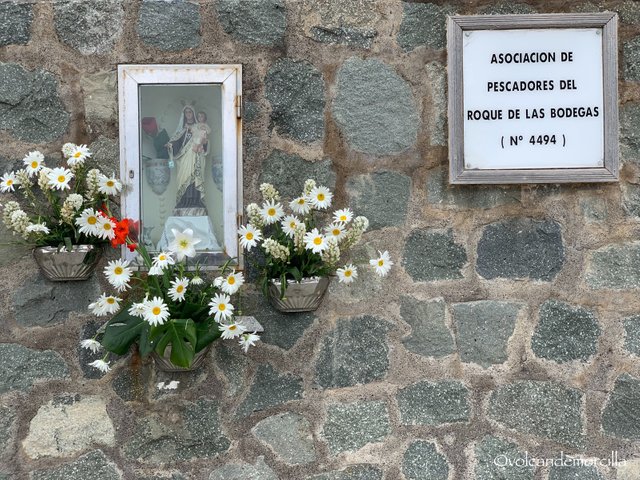 Los mejores meses para disfrutar de esta playa es en septiembre que es cuando el mar es muy calmado y está como un plato.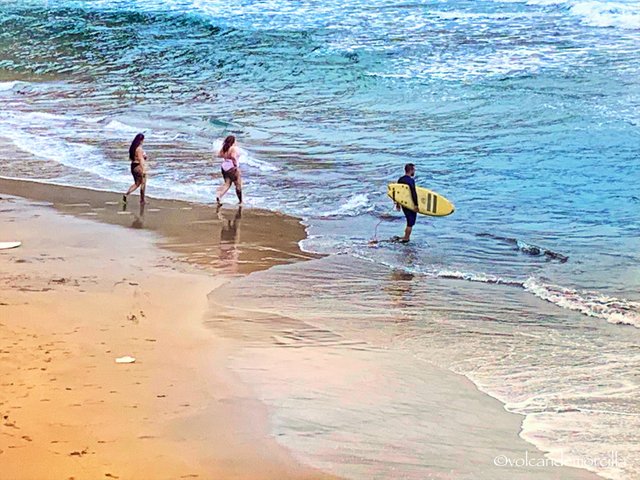 Algunos jóvenes vienen hasta aquí en guagua para coger olas con su tabla y practicar el surf.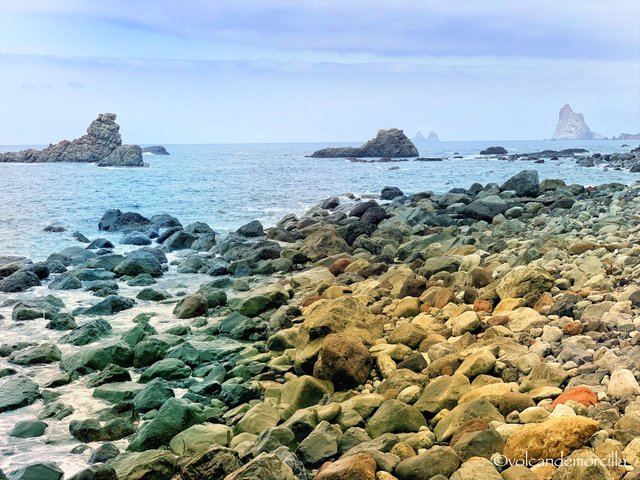 Es mejor ir a la playa con la marea baja porque cuando está alta el agua cubre toda la arena y la playa desaparece.
Frente al mar y en la zona hay diversos restaurantes donde tomar un buen pescado fresco y algunos platos sencillos de la cocina canaria como son las papas arrugadas, el mojo o el pulpo frito.
Las cumbres de Anga son unas antiguas formaciones volcánicas que emergieron desde el fondo del mar por erupciones sucedidas hace
6 millones de años.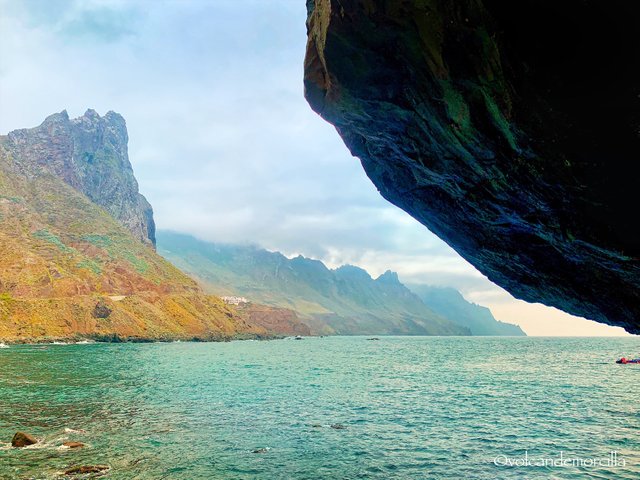 Estos altos volcanes se resquebrajaron con el tiempo y se derrumbaron en el mar, formando algunos pequeños islotes que hay junto a los acantilados.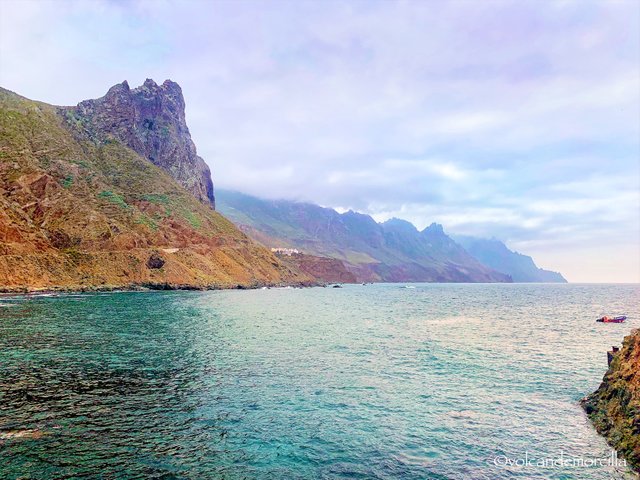 El pequeño núcleo poblacional de Taganana surgió a principios del siglo XX. Como la playa cuenta con un roque que se adentra en el mar y hace las veces de embarcadero, se abrió la posibilidad al comercio.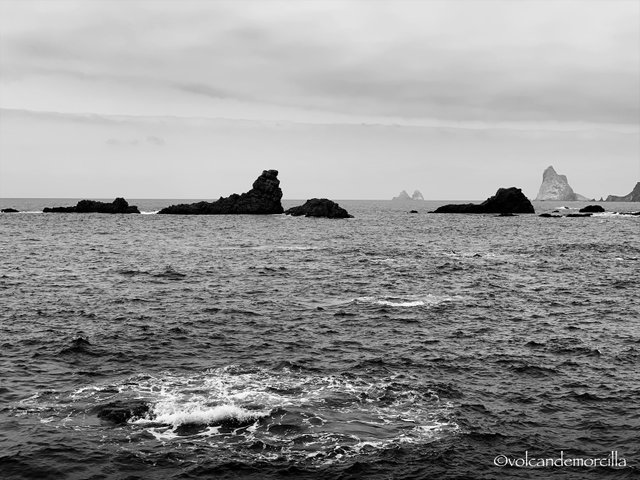 En las laderas de las montañas se construyeron terrazas y en ellas se plantaron viñas. En esta playa, hubo pequeñas casas de piedra y bodegas donde se maceraban los vinos de Taganana. Desde aquí se comerció con Europa e incluso América en los siglos XVII y XVIII.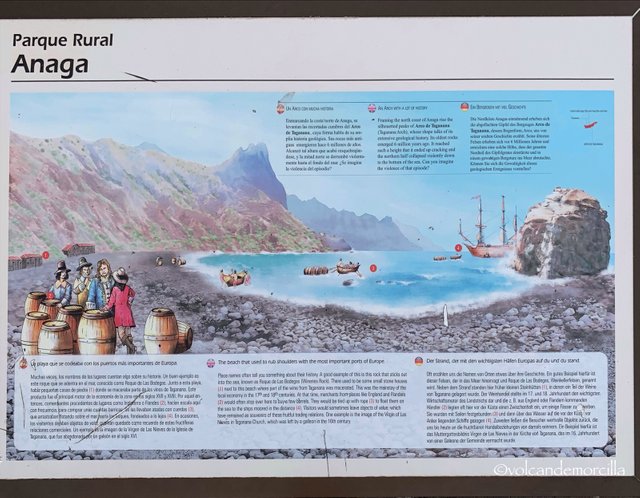 Por aquel entonces, algunos comerciantes que procedían del norte de Europa, Países Bajos o Inglaterra venían exprofeso hasta aquí y hacian escala para comprar vino de Taganana. Luego, los barriles eran llevados flotando hasta los buques que estaban fondeados a lo lejos.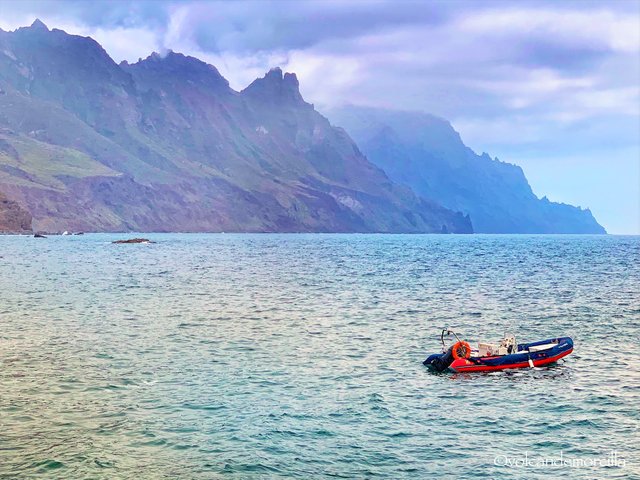 En los primeros años del siglo XX, sólo vivían algunas familias en la playa. En los años 70, se abrieron los primeras casas de comidas comenzando a partir de ahí un tímido desarrollo.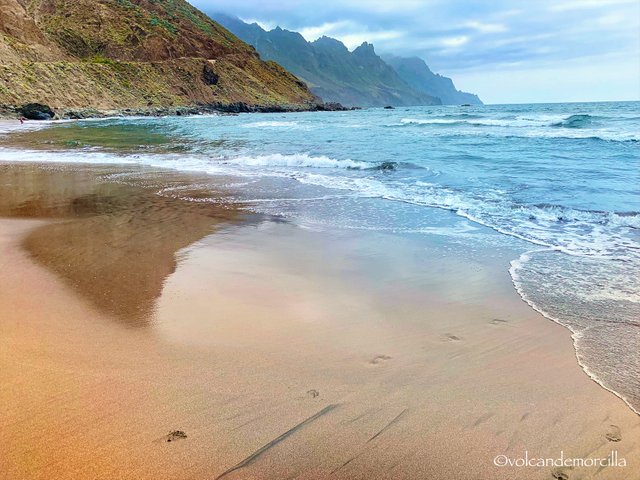 Esta zona noreste de Tenerife tiene una belleza increíble porque se puede disfrutar de la naturaleza, alejados de los grandes núcleos poblacionales, y disfrutar de ella en estado puro.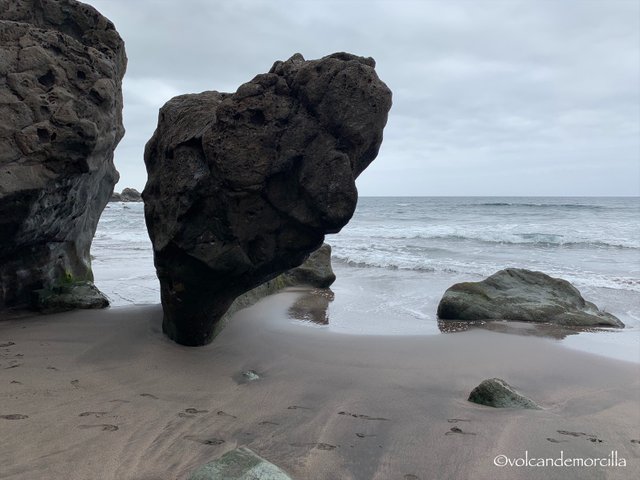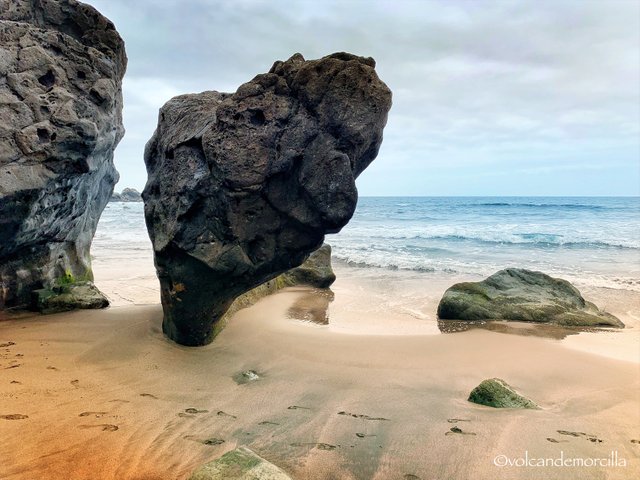 He modificado las fotos en el teléfono con el programa Snapseed porque el día que fuimos al Roque de las bodegasestaba nublado y las fotos originales tienen un color grisáceo. Con el retoque, las fotografías han ganado en color y se parecen mas a la belleza del paisaje original.
Espero que os haya gustado este paseo por un lugar tan especial en Tenerife y os agradezco vuestra compañía. ¡Nos vemos!

The Roque of the wineries.
A few days ago he posted a photo of Almaciga and this reminded me that last July some friends came and we took them to see a hidden beach in Tenerife.
Roque de las Bodegas beach is one of the most beautiful in the Taganana area. There are other beautiful ones such as Almaciga or Benijo. All are nestled between the cliffs of the Anaga massif and therefore. They have a special charm, they remain wild and are preserved without any deterioration.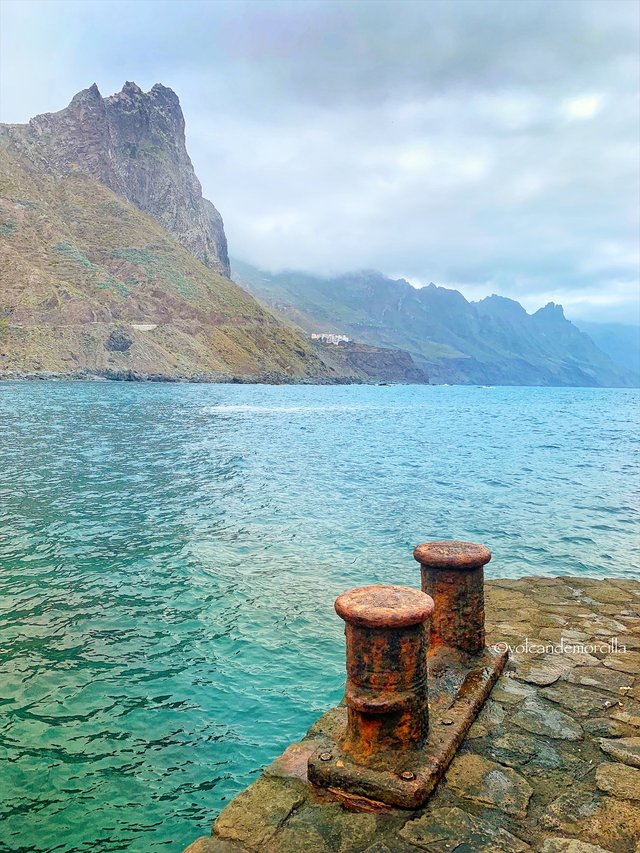 It is difficult to reach this beach because its access is through a complicated and narrow winding road that crosses the laurel forest in the Anaga massif, on the northeast tip of the island of Tenerife
The beach is almost 400 meters long and 50 meters wide. It has very clean and crystal clear waters. Its sand is fine and dark because it is of volcanic origin.
As it is difficult to reach it and there are very few places to park, it is not crowded with people like others on the island. rather, it is a beach little known to tourists so it maintains its family character or for people from Tenerife.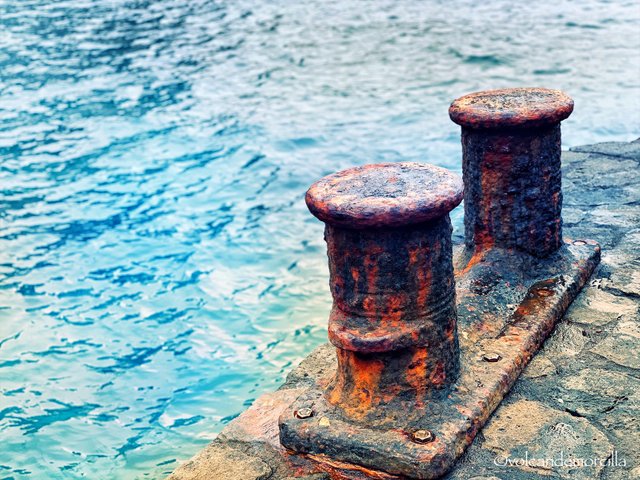 Depending on how the sea is, it can be a beach to bathe in peace or it can be very dangerous. Sometimes the currents are very strong and can drag to the bottom.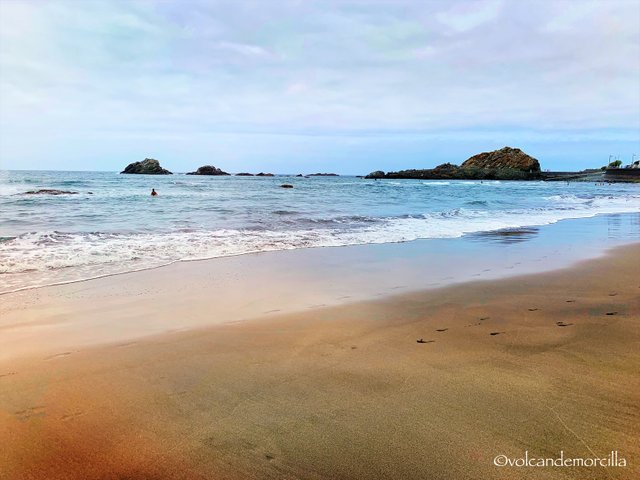 The best months to enjoy this beach is in September which is when the sea is very calm and is like a dish.
Some young people come here by bus to catch waves with their board and surf.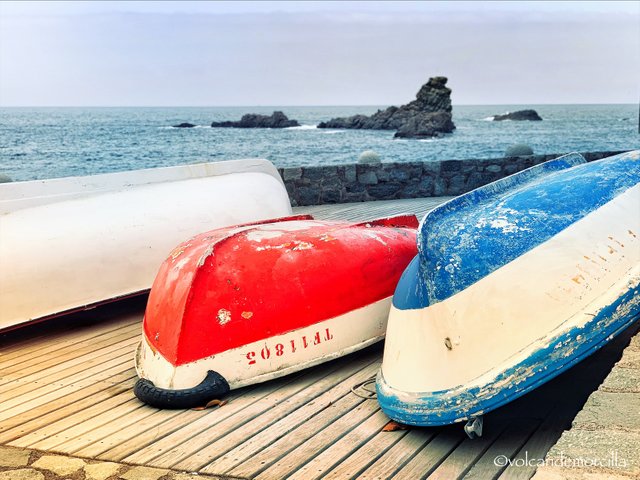 It is better to go to the beach at low tide because when it is high the water covers all the sand and the beach disappears.
Facing the sea and in the area there are several restaurants where you can have a good fresh fish and some simple dishes of Canarian cuisine such as wrinkled potatoes, mojo or fried octopus.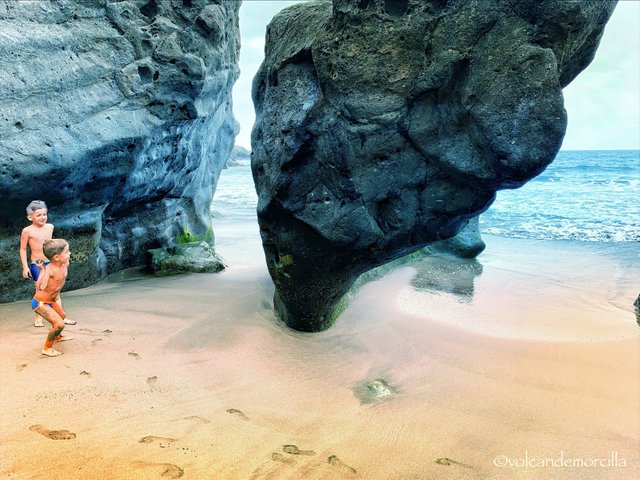 The summits of Anga are ancient volcanic formations that emerged from the bottom of the sea due to eruptions happened 6 million years.
These high volcanoes cracked over time and collapsed in the sea, forming some small islets next to the cliffs.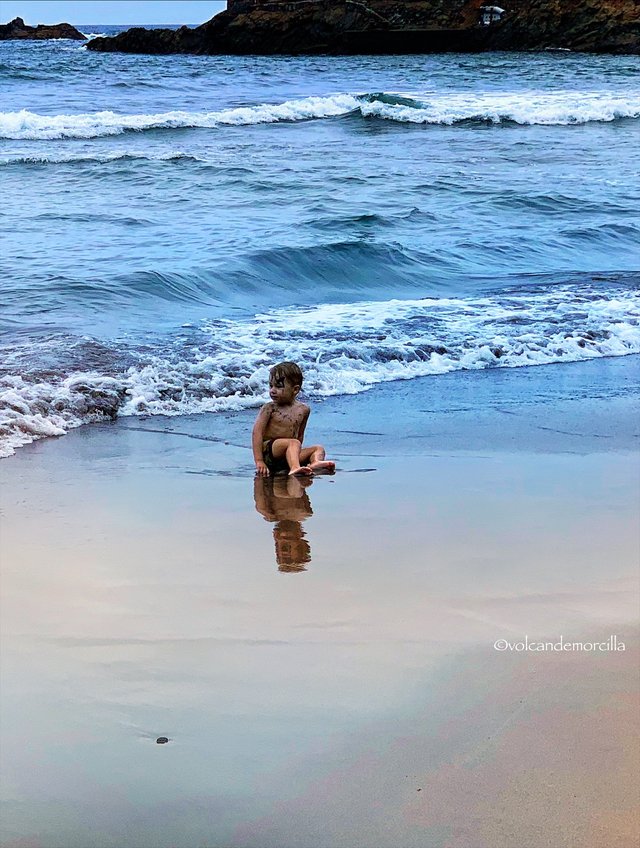 The small population center of Taganana emerged in the early twentieth century. As the beach has a roque that goes into the sea and serves as a jetty, the possibility of trade was opened.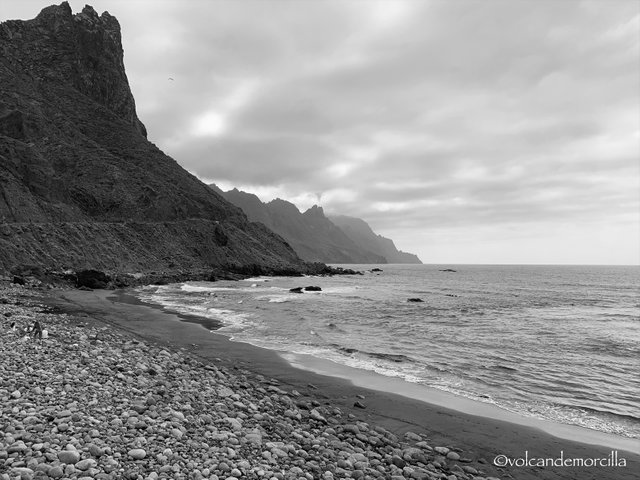 Terraces were built on the slopes of the mountains and vineyards were planted there. On this beach, there were small stone houses and cellars where Taganana wines were macerated. From here it was traded with Europe and even America in the 17th and 18th centuries.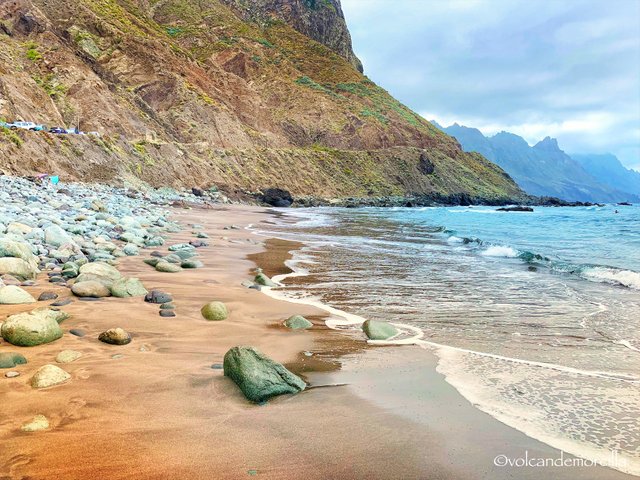 At that time, some merchants who came from northern Europe, the Netherlands or England came exprofes here and made a stop to buy wine from Taganana. Then, the barrels were floated to the ships that were anchored in the distance.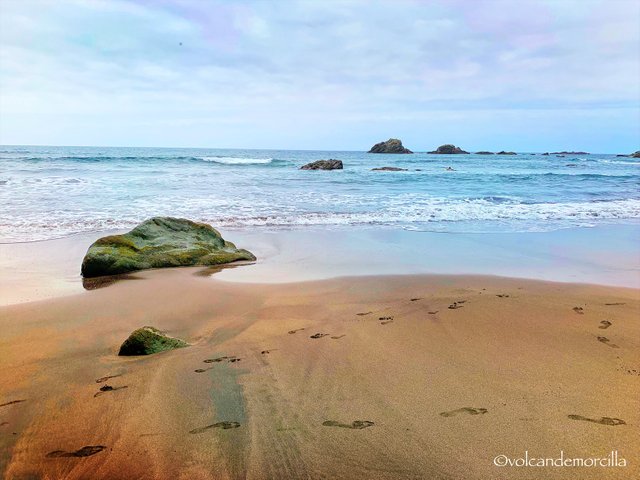 In the early years of the twentieth century, only a few families lived on the beach. In the 70s, the first food houses opened, starting from there a timid development.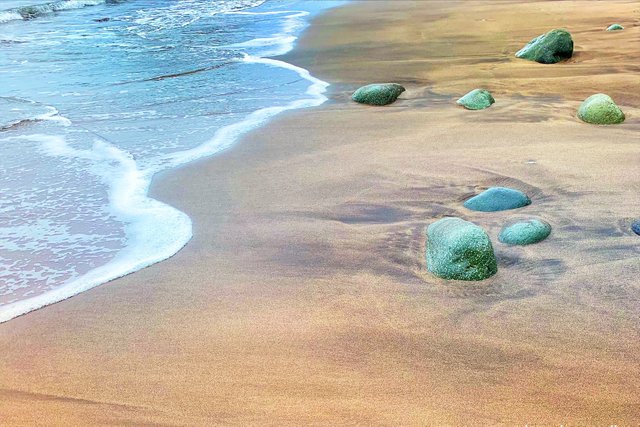 This northeast area of ​​Tenerife has incredible beauty because you can enjoy nature, away from large population centers, and enjoy it in its purest form.
I modified the photos on the phone with the Snapseed program because the day we went to Roque de las Bodegas it was cloudy and the original photos have a grayish color. With the retouching, the photographs have won in color and are more like the beauty of the original landscape.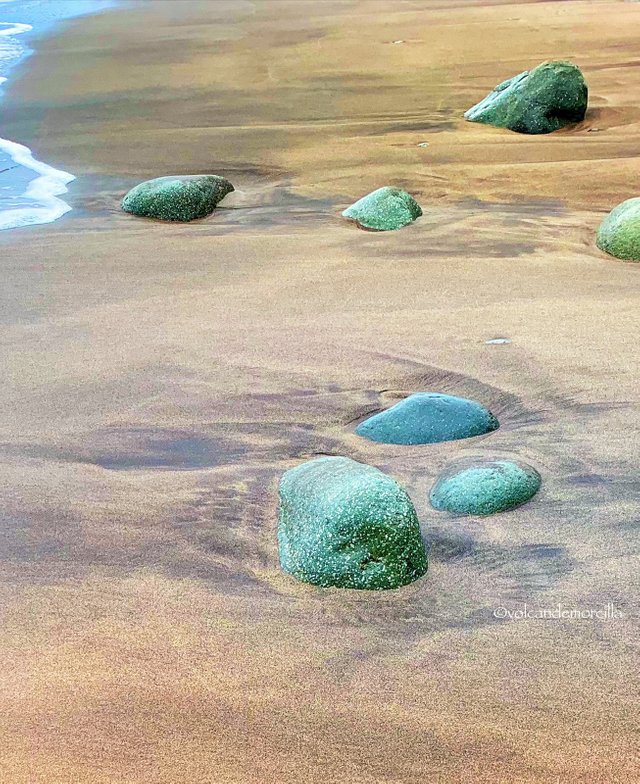 I hope you liked this walk through such a special place in Tenerife. I appreciate your company. See you!
Hasta ahora he publicado otras "curiosidades" de esta isla volcánica maravillosa. Si os apetece verlos, aquí os dejo los enlaces:
So far I have published other "curiosities" of this wonderful volcanic island. If you want to see them, here are the links:
1. Cruces de Mayo/ May Crosses
3. Mariposario/Butterfly Garden
8. El mercadillo del agricultor

Cómo lo hago
Hice las fotografías con mi iPhone X. Para la edición utilicé la aplicación Snapseed y para la firma digital usé la App Watermark.
Los dibujos los hice en el iPad con el programa Sketches.
For the photography I use my iPhone X. For edition I use the Snapseed application and for the digital signature the Watermark app.
Everything I did on my mobile phone, I did not use the computer at all.
For the drawings, I use the Sketches program and paint them on the tablet.
Si quieres ver como lo hago, visualiza estos tres enlaces de publicaciones previas.
If you want to see how I do it, visualize these three links from previous publications.


Las fotos son mías y originales. También, soy el autor del dibujo separador.
¡Espero tus comentarios!
The photos are originals and mine. Also, I am the author of the separator drawing.
I await your comments.
¡Buen Camino!